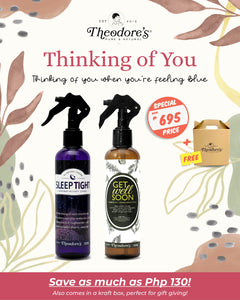 Thinking Of You
Regular price
₱695.00
₱0.00
SAVE as much as Php 130!
Show your love by being there in their time of need. Those flu and cold germs are no match for your genuine care and the Sleep Tight and Get Well Soon Room Sprays.
Product bundles packaged in kraft boxes are only available for self / courier pick up.
Includes: Sleep Tight 250ml and Get Well Soon 250ml
Thoughtful and unique gift
This is a nice gift for friends who are feeling under the weather - instead of food, why not give a gift of wellness? Nice, comforting scents that are sure to cheer anyone up.
Great for people who do not need more 'things.' Thank you for gifting good sleep and relief with our Sleep Tight and Get Well Soon room sprays, Ms. Lesley!