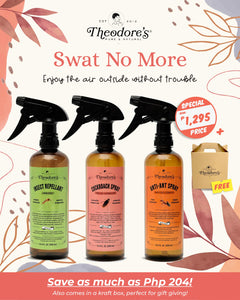 Swat No More
Regular price
₱1,295.00
₱0.00
SAVE as much as Php 204!

No more unruly distractions on our watch! With the Anti-Ant Spray, Cockroach Spray, and Insect Repellant as your lookouts, you won't have to worry about running into pesky intruders in your own home.
Product bundles packaged in kraft boxes are only available for self / courier pick up.
Includes: Insect Repellant 500ml, Cockroach Spray 500ml, and Anti-Ant 500ml