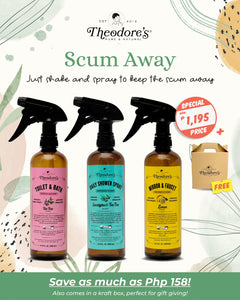 Scum Away
Regular price
₱1,195.00
₱0.00
SAVE as much as Php 158!
Been putting off cleaning the bathroom? Leave it to us! Our bathroom buddies, the Toilet & Bath, Daily Shower Spray, and Mirror & Faucet, are guaranteed to do all the hard work for you.
Product bundles packaged in kraft boxes are only available for self / courier pick up.
Includes: Toilet & Bath 500ml, Daily Shower Spray 500ml, and Mirror & Faucet 500ml
Very effective!
This is the first yime I used products from theodore's home care, at first I was doubtful as these do not have chemical ingredients so I was expecting that it will not perform as good as the chemical ones but to my surprise, it made my bathroom cleaner and my faucet shiny again. Really effective!
Handy everyday!
I shake and spray a little of these three bottles everyday and they've really helped me maintain cleanliness in my bathroom in a way that doesn't hassle me at all. So glad I have them! They've made cleaning my bathroom more manageable :D