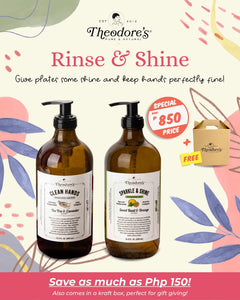 Rinse & Shine
Regular price
₱850.00
₱0.00
SAVE as much as Php 150!
A mountain-load of dishes might not seem like the best way to start the day, but the Sparkle & Shine Dish Soap and Clean Hands Hand Soap sure make the task a lot less daunting! Takes care of the dishes while moisturizing your hands, we might as well add it to our self-care routine too.
Product bundles packaged in kraft boxes are only available for self / courier pick up.
Includes: Sparkle & Shine (Liquid) 500ml and Clean Hands 500ml in glass bottles.