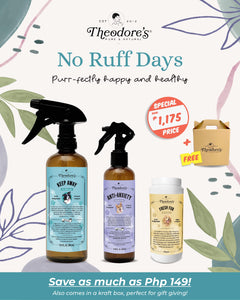 No Ruff Days
Regular price
₱1,175.00
₱0.00
SAVE as much as Php 149!
The unconditional joy in a puppy dog's eyes would make any pawrent swoon! Taking the best care of them is how we keep them happy and healthy for many more years to come. The Fresh Fur Dry Shampoo, Anti-Anxiety Calming Blend, and Keep Away Pet Repellent are thoughtfully-made for pets.
Product bundles packaged in kraft boxes are only available for self / courier pick up.
Includes: Keep Away 500ml, Anti-Anxiety 250ml, and Fresh Fur 200g