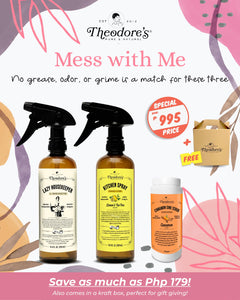 Mess With Me
Regular price
₱995.00
₱0.00
SAVE as much as Php 179!

Have the confidence to take on any kitchen mess! From countertops down to sinks, the Kitchen Spray, Lazy Housekeeper, and Cinnamon Sink Scrub has your back. 
Product bundles packaged in kraft boxes are only available for self / courier pick up.
Includes: Lazy Housekeeper 500ml, Kitchen Spray 500ml, and Cinnamon Sink Scrub 250g
One of the best and most reliable products. One of my top 3 brands.
Extremely satisfied!
I would like to thank everyone in The Anndore House for making my stay so wonderful. It like I was home during my 10-day stay! The room is spacious and homey. The bed was perfect for my taste. The food at Constantine is a must! I would like to make special mention and thank you to the excellent crew at the front desk especially, Hanna and Joey. They were very warm, friendly and accommodating. Hospitality at it's finest. And lastly, I would like to thank Kevin. Even if I didn't get a chance to meet you, thank you for everything! More power to all of you and to The Anndore House! I will definitely recommend it to friends and family traveling to Toronto. Hope to see you all again in the near future.
Very truly yours,
Sandra Gordon-Recto