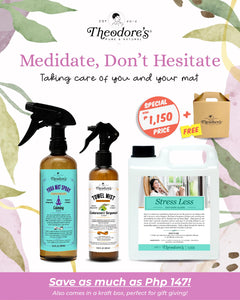 Medidate, Don't Hesitate
Regular price
₱1,150.00
₱0.00
SAVE as much as Php 147!
Surround yourself with a calming presence, both on and off the mat! The Stress Less Diffuser Blend helps you center your mind while the Yoga Mat Spray (Calming Blend) and Towel Mist takes care of your meditation tools for you.
Product bundles packaged in kraft boxes are only available for self / courier pick up.
Includes: Yoga Mat Spray (Calming) 500ml, Towel Mist 250ml, and Stress Less Diffuser Blend 1L