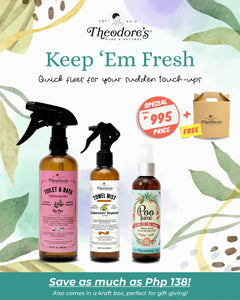 Keep 'Em Fresh
Regular price
₱995.00
₱0.00
SAVE as much as Php 138!
Some surprise guests have arrived and you need a quick touch-up? Our bathroom quick-fixes, the Toilet & Bath, Towel Mist, and Poofume, are sure to help you efficiently AND effectively. Have a permanent space for them in your bathroom so you never have to worry again!
Product bundles packaged in kraft boxes are only available for self / courier pick up.
Includes Toilet & Bath 500ml, Towel Mist 250ml, and Poofume 100 mL