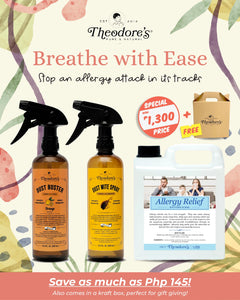 Breathe With Ease
Regular price
₱1,300.00
₱0.00
SAVE as much as Php 145!
Dust is not a must in the household! Soothe your allergies before they even begin with our dust-biting superstars –  the Dust Buster, Dust Mite Spray, and Allergy Relief.
Product bundles packaged in kraft boxes are available only for self / courier pick up.
Includes: Dust Buster 500ml, Dust Mite Spray 500ml, and Allergy Relief 1L