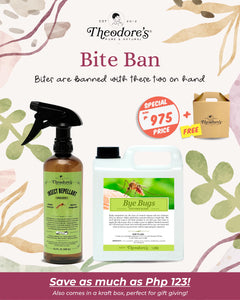 Bite Ban
Regular price
₱975.00
₱0.00
SAVE as much as Php 123!
The one-two punch from the Insect Repellent Room Spray and the Bye Bugs Diffuser Blend will definitely make those mosquitoes fly away instead! An effective all-natural repellent that also leaves your home smelling fresh.
Product bundles packaged in kraft boxes are only available for self / courier pick up.
Includes: Insect Repellent Room Spray 500ml and Bye Bugs Diffuser Blend 1L